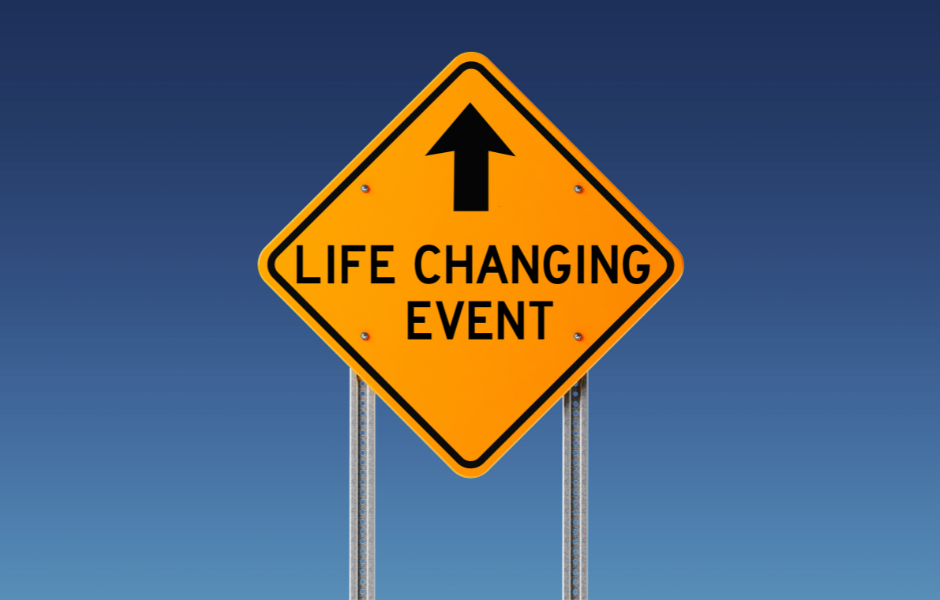 Why You Need Major Life Event Insurance.
How Essential Coverage Can Help You Navigate Major Life Transitions.
Life is full of transitions, both expected and unexpected. Changes such as getting married, buying your first house, or sending your kids off to college can bring both excitement and uncertainty. However, the right insurance can provide essential coverage and a sense of security during these major life events. In this article, we'll explore the importance of having insurance for major life events and the different ways you can help protect yourself and your family.
Getting Married: Insurance to Protect Your "Happily Ever After."
Your wedding day is one of the most significant events in your life. Therefore, it's essential to contemplate how your insurance needs may shift in this new chapter.
For example, it's important to consider insuring any valuable assets you may acquire during this new chapter of your life, such as your wedding ring. A wedding ring is not only a symbol of your love and commitment but also a significant financial investment. Insuring your wedding ring can provide peace of mind in case of loss, theft, or damage. You can check with your insurance agent to see if your ring is covered under your existing policy or if you need to purchase additional coverage.
Additionally, consider purchasing homeowners or renters insurance to protect your shared living space and belongings. Auto insurance is also important if you plan to combine vehicles or add your spouse to your policy. Make sure to review your policies and consider making any necessary changes to ensure proper coverage.
It's also essential to consider purchasing an umbrella insurance policy. This type of policy provides additional liability coverage beyond what is included in your home and auto insurance policies. It can protect you and your spouse from extreme financial hardships in the event of a lawsuit. By taking the time to evaluate your insurance needs, you can start your new life together on a secure financial footing.
Buying a Home: Safeguarding Your Property with the Right Coverage.
Buying a home is another significant life event that requires careful consideration of insurance needs, and you should protect your large purchases with the proper insurance.
Homeowners insurance protects your home from damage or loss due to events like fire, theft, or natural disasters. Additionally, if you're taking out a mortgage, your lender may require you to have homeowners insurance as a loan condition. If you live in an area prone to flooding or earthquakes, you may also want to consider additional coverage. 
Finally, you'll want to ensure you have the appropriate rental or vacation home insurance if you plan to rent out your property or use it as a vacation home.
Learning to Drive: Essential Coverage for New Drivers.
Adding your spouse to your car insurance policy is a common step after getting married, but what about your kids?
Your kids getting behind the wheel for the first time can be a nerve-wracking experience for any parent. Fortunately, having the right major life event insurance can provide peace of mind and financial protection in the event of an accident.
Accidents can happen at any time. Proper auto insurance can help cover the costs of any damage to the car or injuries sustained in an accident. If your child is driving a car that is registered in your name, you may be held liable for any damages. You can avoid potential financial liability in the event of an accident by ensuring that your child has adequate auto insurance coverage.
By the way, did you know that many insurance companies offer discounts for good grades, safe driving courses, and other factors that can help offset the cost of adding a young driver to your policy? Make sure to ask your insurance agent about it.
Additionally, some policies offer roadside assistance and rental car coverage, which can be especially helpful in case of an emergency. Consulting with your insurance agent about your options can help ensure that your family is properly protected while your children learn to drive.
Off to College: Insuring Your Child's Future with the Right Coverage.
Sending your child off to college is an exciting time, but it can also be very stressful for parents. While you're excited about their future, you may also worry about their safety and security while away from home. One way to ease your worries is to make sure that you have the right insurance in place.
If your child is taking a car to college, they will likely be doing a fair amount of driving. Auto insurance can help to mitigate the costs associated with any damage to the vehicle or injuries sustained in an accident.
Many states also require drivers to have auto insurance coverage, and driving without it can result in fines, license suspension, or even legal trouble. Overall, having the right auto insurance coverage for your child is important to ensure their safety. This way, you can rest assured that your child is protected and focused on making the most of their college experience.
Don't forget to remind your children not to drive their roommate's car. If your son is not listed on their friend's auto insurance policy (and he likely won't) and gets into an accident while driving his roommate's car, it could potentially create issues with the insurance coverage.
In this scenario, the car owner's insurance policy is the primary coverage that pays for the damages to the other party involved in the accident. However, if the driver was not authorized to use the car and was not listed on the insurance policy, the insurance company may deny the claim or refuse to provide coverage for the accident.
The car owner may also face legal and financial consequences for allowing an uninsured driver to operate their vehicle and could be held liable for any damages or injuries resulting from the accident.
Obviously, this goes both ways, and your child should not let anyone drive their vehicle either.
It is always a good idea to ensure that anyone who drives your car is covered under your auto insurance policy. If the driver is not listed on the policy, the car owner should contact their insurance company and add the driver as a covered driver to avoid any potential coverage issues in the future.
Protect Your Future with the Right Insurance and the Help of an Independent Agency.
An independent insurance agency like The Insurance Marketplace Agency can help with this process. Unlike captive agents who only represent one insurance company, independent agents represent multiple carriers and can help you compare coverage options and find the policies that best fit your needs and budget.
Whether you're getting married, buying a new home, sending a kid off to college, or experiencing any other major life event, an independent insurance agent can help you navigate the complex world of insurance and ensure that you have the right coverage in place. 
An independent insurance agent can also provide guidance on any coverage gaps you may have and suggest additional policies to consider. With their help, you can have peace of mind knowing that you and your family are protected no matter what life throws your way.
If you need any support, The Insurance Marketplace Agency is a phone call away. We'd love to be your advisor. We take pride in taking the time to get to know our customers in order to provide them with the best solutions for their unique situations. We represent over 30 insurance companies – let us ease the stress of finding the right insurance by doing the shopping for you and providing personalized coverage that suits your needs.
Don't tackle the task of finding insurance alone – contact us today to learn more about how we can help you protect your future with the right coverage options.